Read below to learn more about the CUB lab research team and what their favorite games were growing up. To read more about what types of games and tasks children can complete in the lab, click here.
Research Director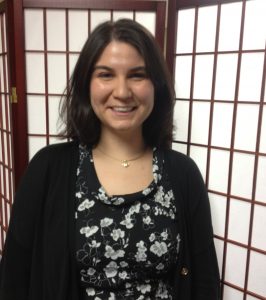 Dr. Stephanie Miller (Ph.D., University of North Carolina at Greensboro)
Stephanie is an assistant professor in the Psychology Department at The University of Mississippi. She studies the development and emergence of behavioral control, and its relation to social (e.g., communication, friendships, parenting) and cognitive processes (e.g., memory). Stephanie has published in professional academic journals such as the Journal of Experimental Child Psychology and Developmental Psychology. In her free time Stephanie likes to cook, bead, travel, and loved solving puzzle games with friends growing up.
Graduate Students
Reagan Pearce (M.A., University of Mississippi)
Reagan is a graduate student in the Experimental Psychology program at the University of Mississippi. Her research interests focus on how different factors, like movement or mindfulness, may encourage self regulation during preschool. When she is not in school, she enjoys being outside, going on road trips, and playing with her dog, Oby.
Biju Rajbhandari (B.A., Lawrence University)
Biju is a graduate student at Ole Miss. She obtained her B.A. at Lawrence University where she researched mindfulness and executive function with preschool children.  She is excited to continue research in this area while at Ole Miss. Biju enjoys traveling to different places and learning about different cultures. As a child, she loved to rollerblade with her siblings.
Lab Manager
Mary Rogers Merrell
Undergraduate Research Assistants
Alexis Bass
Alexis is a Junior at Ole Miss majoring in psychology with minors in education and english. This is currently her first year as an undergraduate research assistant in the CUB Lab. She hopes to attend a masters program after graduating, and spending a career working with children and mental health. When she's not in school, she's working at a local pizza restaurant or playing with her dogs.
Meridith Morris
Meridith is a senior at Ole Miss majoring in psychology with a minor in criminal justice. After graduating she plans to attend graduate school for clinical mental health counseling. This is Meridith's first semester in the CUB lab. She enjoys spending time with her friends and going to Ole Miss football games.