Our projects are designed to be fun and enjoyable for children. Parents are invited to watch while their child participates. Below are a few of the studies we are currently working on in the CUB lab! To enroll to be the first to know about new projects please click here or contact us at (662) 915-2370 or cublab@olemiss.edu
Measuring Controlled Behavior in Toddlers
Ages: 14 months, 18 months, and 24 months
Project Manager: Dr. Stephanie Miller
In this project, toddlers play games that involve following rules, waiting for prizes, remembering information, and thinking about other people. This project will help us measure and understand how self-control over behavior and thought emerges in toddlers– a foundational cognitive skill linked to positive academic achievement, social understanding, and well-being.
Weighing Down Thought
Ages: 3-Year-olds
Project Manager: Reagan Pearce, M.A.
In this project, three-year-olds will be asked to play computerized games related to self-regulation (e.g., using rules to sort cards, searching for a hidden object among multiple hiding places). Some children will be asked to play these games while wearing slightly weighted cotton bracelets. This study provides information about how problem-solving is influenced by changes in normal movements, like reaching.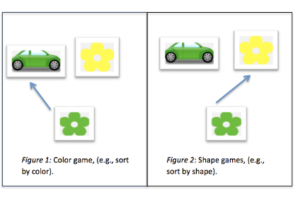 Mindful Preschoolers
Ages: 4-Year-olds
Project Manager: Biju Rajbhandari, B.A.
In this project, preschoolers will play problem solving and waiting games and may be presented with different mindfulness activities (e.g., breathing, thinking about action) while playing the games. This project will help us understand how and if mindfulness practices can help children control behavior in different types of problem solving games.
Read more about our mindfulness related work partnering with  the school of education and department of nutrition and hospitality management here!